For all non drivers and information on Rail Operations and Infrastructure, including membership, please go to the Victorian Branch website
In 1861 – The first union of locomotive enginemen was formed when 20 drivers banded together to form the "Locomotive Engine Drivers Association of Victoria" , now the RTBU Locomotive Division in Victoria has almost 2000 members and counting!   read more.
PTC 1994 Book of Rules and Operating Procedures.
Members now have access to the Book of Rules (Metro Specific Network) online via the member portal login.
Terry Sheedy 1945 - 8/6/2021
The Locomotive Division send their deepest condolences on the passing of Train Driver Terry Sheedy, Life Member and former President of the AFULE and Victorian Rail, Tram and Bus Industry Union State Branch and Locomotive Division.  
Commencing his career in the Victorian railways in February 1965 at the age of 20, Terry joined the AFULE and was officially elected in 1973 as a delegate at Metro.
His working career in the PTC took him from the Victorian Railways, National Rail Corporation (later becoming Pacific National) and then in 2004 on to Connex and Metro Trains.
Terry was a strong personality and very loyal Union representative. From his election in 1973 Terry was very active in the Union movement, holding positions such as the National Divisional Delegate to the National Council for Locomotive Division, President of the State Branch and Locomotive Division and Divisional Councilor. Sitting on a number of committees, Enterprise Agreement negotiations and member representations over the years.
Terry retired from the Railways on 22nd February 2014 and after 41 years of service and commitment to the union movement, on the 10th December 2014 the Locomotive Division was proud to make Terry an official Life Member.  Terry wore that badge with honour, delighted to have been involved in such a great movement.
Terry was father and father-in-law to Steven and Carmel, Kathryn and Marty, Craig and Purdey and a devoted Pa of Callum; Jack, Harry and George; Lily and Max.
Our hearts and prayers are with the Sheedy family and may his soul rest in peace.
Click here to read more about the Key reforms in OH&S to protect workers SEP 2021

The OHS Act has been amended and now the new Section 58 gives HSRs greater power to raise risk issues, seek help from the Union or even WorkSafe. HSR's can now take pictures, measurements, make sketches, take audio or video recordings but only in their designated work group (DWG) for the specific purpose of health and Safety of their members.
Register your Asbestos Exposure
"It's a good idea to document any asbestos and or/dust, fumes and chemical exposure in case you do develop an asbestos-related or occupational lung disease later in life. …." Read More 
Health and safety reps (HSR's) support and advocate the health and safety of staff.
Employers and employees should be exchanging important information and advice about workplace safety  risks and the preventative tools.
We encourage members to be aware of their HSR and speak up about any unsafe work practices. 
Want more info? – go to https://www.ohsrep.org.au/
Australian Transport Safety Bureau
Maurice Blackburn's breakfast with the Honourable Jill Hennessy MP

RTBU Locomotive Divisional delegates and train drivers attended the Maurice Blackburn's breakfast with the Honourable Jill Hennessy MP, celebrating the contribution of women to the Justice System. The advancement of women within our industry and generally within the workplace is something we advocate and were proud to be a part of.
Vaccination objections: Not a diversity and inclusion issue (Opinion piece) by Lisa Annese  the CEO of Diversity Council Australia.
As Australian businesses prepare for a safe reopening in line with many global counterparts, an increasing number of Australian organisations have announced vaccine policies requiring staff to get vaccinated against COVID-19 before returning to the office. Read more here
Decembeard | 1-31 December
Decembeard is a hair–raising fundraiser held during the month of December. Encouraging men to grow a beard and women or childen to fake a beard to raise awareness and much needed funds for Bowel Cancer Australia
Find out more HERE – https://www.bowelcanceraustralia.org/decembeard
"Employers and colleagues don't always know how to respond when someone at work has been diagnosed with bowel cancer. This fact sheet covers your legal rights as your symptoms develop over time." 
EMPLOYMENT RIGHTS -Information for people with Bowel Cancer
For more Information and Fact Sheets on Bowel Cancer, please go to Bowel Cancer Australia  website
White Ribbon Australia-
Pathways to Change
There's help available to understand the ways your behaviours effect the people you care about or the ways abusive behaviour can affect others:
If any member requires assistance, the Locomotive Division is an open yet confidential place . Our goal is to break down the barriers of conversation and have an inclusive workplace.
Respect Each Other: 'Call It Out' (COVID-19)
The Respect Each Other: 'Call It Out' campaign is designed to bring all Victorians into the conversation around family violence depicting the irreversible damage that can occur when a home becomes unsafe.
https://www.facebook.com/RespectVictoria/
Whilst Victoria is in Stage 4 Lockdown, the Locomotive Division is still available to members. 
Phone and emails are being manned as normal and representatives are available for consultation. 
Please contact the Union as normal for all representational and consultation needs.
Reporting
Employers must notify WorkSafe about a confirmed diagnosis of COVID-19 in the workplace.
Employer Obligations
If you need a Union Representative for a meeting- please contact the Union Office ASAP HERE.
Please do not rely on your company to contact the Union.
Please ensure, if possible, you have the Date and Time of your meeting so a Union Representative can be scheduled to attend with you.
Representatives are being booked every day for Membership representations as well as other important matters such as EA meetings.
Scholarships are available to the children of Financial RTBU Locomotive Division members' . Please click HERE to go to the Department of Education scholarships page and view the open scholarships.  
Glenn Moorhead Memorial Scholarship for current Year 12 students starting Tertiary education in the next year-OPEN NOW. 
Ken Matthews Memorial Scholarship for current Year 12 students starting Tertiary education in the next year-OPEN NOW. 
Applications will open in November 2019 for the Frank Carey Memorial Scholarship (completing year 6 and year 9) and the Steve Gibson Memorial Scholarship   (completing year 10) 
With the QUBE EA have reached expiry in May 2021, the Locomotive Division had entered negotiations, which are still ongoing. 
Victorian mother considering damages lawsuit one year on from family's COVID battle
"In August last year, Angie Shrimpton was one of the thousands of Australians who contracted COVID-19 while at work."
Investigations into alleged corruption within Victorian Public transport.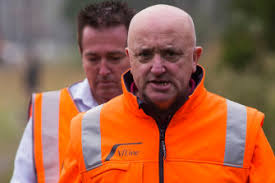 Testimony throws doubt on former V/Line boss' gambling syndicate claim- (Timna Jacks /Oct 28, 2020— The Age)
"Claims by former V/Line boss James Pinder that cash he pocketed from the rail operator's cleaning contractor was the proceeds of a gambling syndicate have been thrown into doubt by fresh evidence tendered at an anti-corruption inquiry." Read full article here.
Metro Trains fleet manager admits accepting corrupt payments, contradicts V/Line chief during IBAC hearings– ( Jessica Longbottom  and Charlotte King /Oct 29, 2020— ABC News)
"The fleet manager at Metro Trains has admitted to accepting roughly $150,000 in corrupt cash payments from the director of a cleaning company, during Wednesday's hearing of the Independent Broad-based Anti-corruption Commission (IBAC)..." Read More HERE